How to Recover Permanently deleted Photos for free?
Did you accidentally delete all your photos, or delete them in a split of anger, or some toddler did it for you? And now you are wondering how you can recover them. You thought of recovering them from your trash, but it was deleted permanently?
You don't have to worry now because there's a quick and easy way to recover all your photos and videos for free.
Diskdigger is a media recovery application that helps the user to recover every single photo and video that has been stored in your phone at some point in time.
How does it work?
Every media and other data that comes or is created in our phone has a trail, and even after it gets deleted, the trail can be used to recover the data. Disk digger uses the same process to fetch your data back. Here's how you use the application.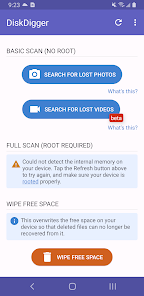 Install the application from the Google Play store or IOS
Select Basic or Root Scan as per your choice.
Wait for a few minutes while it restores the media
Select the media you wish to restore
click on "restore"
select the file you want the media to be stored
Done
If your phone is rooted correctly, all your media will quickly recover. However, having your phone rooted makes your phone and its data vulnerable to hackers. You can recover most media with the basic scan rather than going for a root scan.
Note: Diskdigger is free, but it also means the app might use the data. Hence, recovering the data with a paid app is always recommended. You can also purchase diskdigger license for Windows for $14.99.
The paid app has the advantage and the security of not having the data breached.