About the App
Now you can get xml or PDF backup of almost everything (Contacts, Specific contact Log, Call Log, SMS backup, Call Log Statistics, SMS Statistics, truecaller ) and you can instantly save these backup in email, Google Drive/ DropBox or save them on any cloud location/where ever you want. Backup and Restore feature is available for SMS and Call log in addition to PDF backup which is available for SMS, Call Log, Contacts and statistics.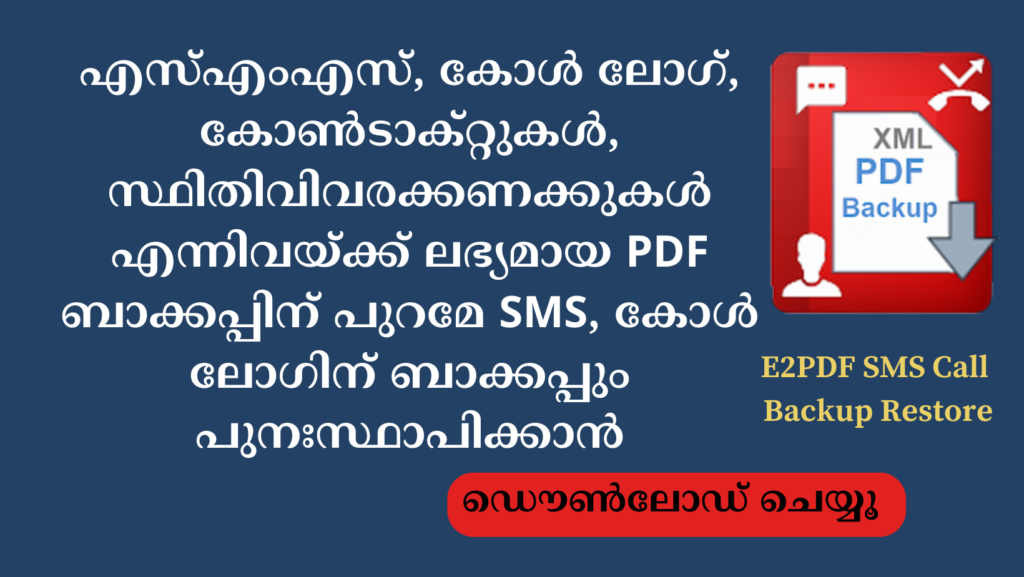 Features of the App
SMS Backup & Restore in XML/ SMS Backup into PDF : E2PDF Pro is very simple but highly productive app that allows you to take backup of your SMS conversation with your loved once and then never loose that again. All you have to do is to select conversation and before taking backup in PDF, whole conversation appears on your screen, you will enter output file name and with one click backup will be created. 
CALL LOG (OPTIONAL DIALED, RECEIVED, MISSED CALL, DATE RANGE) : Call Log can be efficiently backuped and Restore with E2PDF Pro. Backup is created in XML format. In addition to this, user can create Backup in PDF format which is well designed. With PDF backup feature, you can select either to take backup of Dialed, Received, Missed call or take complete Call Log and can use it as per your requirement.
CONTACTS Backup with (OPTIONAL CONTACT NAME, CONTACT NUMBER, EMAIL ADDRESS) : This backup feature is available in PDF format. User can take Contact backup with contact name, number and email address. In addition to this, user also had option of selecting orphan email addresses.
SPECIFIC CONTACT LOG (OPTIONAL (SMS, CALL LOG)) : With Specific contact log, you can take PDF backup of Call log and SMS of that specific contact. This feature is amazing to filter out specific contact log from complete Call log and SMS.
 CALL STATISTICS : Call Statistics allows you get statistical information of number of Dialed, Received, Missed calls and rejected calls on daily basis. In addition you will also get information of total call duration of specified date range.
SMS STATISTICS : With SMS statistics, you will get number of SMS Sent/Received on daily basis and as well as total number of SMS Sent/Received during specified time range.
Generated backup files (XML and PDF) are all stored in mobile internal storage. PDF is generated using stranded writers so output file is compatible with almost all known readers including Nitro PDF reader, Adobe Acobat, Xodo PDF Reader, Sumantra , Radaee ,Preview, Foxit, PDF-XChange and many more.
The output generated file can easily be shared over email, Whatsapp, Wifi-direct, Bluetooth and you can save it directly to your any cloud location.