About the App
Mera Bill Mera Adhikar is an App Launched by Government of India in 2023 to encourage people to Ask for GST bill for their Purchases and by Uploading that Bill on Mera Bill Mera Adhikaar App, they can be part of Lucky Draw worth 1 Cr Rupees. If you are facing difficulties downloading App in your Android or iOS Smartphones, Here is Mera Bill Mera Adhikar APK Download Free available to you.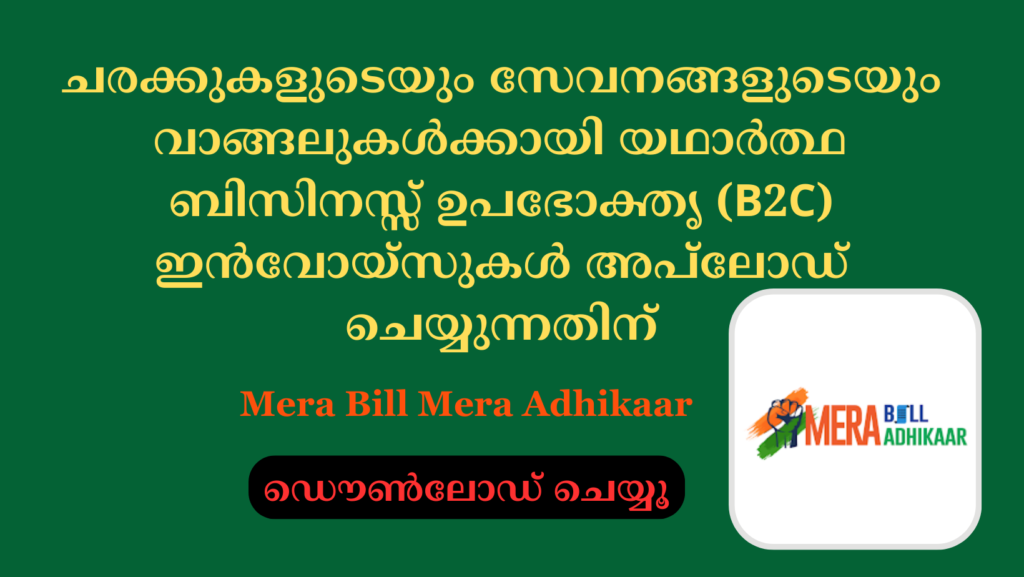 Mera Bill Mera Adhikaar is wonderful initiative by Government to encourage people of the country to Pay GST on Bill and get benefits of winning Prizes every month. It helps prevent tax evasion and govt will get more information about GST for better Tax Administration. So, by using Mera Bill Mera Adhikar App people will be more aware about GST.
Launch and Coverage: The scheme is set to launch on September 1. It will initially launch as a pilot scheme from states of Haryana, Assam, Gujarat & UTs of Dadra & Nagar Haveli, Daman & Diu & Puducherry.
Objective: The main objective of the scheme is to encourage consumers to demand proper invoices from sellers for their purchases. This helps in curbing tax evasion and promoting transparency in transactions.
Eligibility: All invoices issued by GST-registered suppliers to consumers will be eligible for the scheme.
Prize Structure: Monthly and quarterly draws will be conducted, and customers can win cash prizes ranging from Rs 10,000 to Rs 1 crore, based on their uploaded invoices.
Invoice Value Requirement: To participate in the lucky draw, the minimum purchase value for an invoice is set at Rs 200.
Upload Limit: Individuals can upload a maximum of 25 invoices in a month, starting from September 1.
Mobile App: The 'Mera Bill Mera Adhikar' mobile app will be available on both IOS and Android platforms. Users can upload invoices using this app.
Invoice Details: Invoices uploaded on the app should include details such as the GSTIN (Goods and Services Tax Identification Number) of the seller, invoice number, amount paid, and tax amount.
Incentive Mechanism: By offering cash rewards for uploading invoices, the scheme aims to incentivize citizens and consumers to actively request proper invoices for their transactions, especially in business-to-consumer purchases.
Transparency and Tax Compliance: The scheme promotes transparency in transactions and discourages tax evasion by ensuring that businesses issue proper invoices for their sales.
Expansion Plans: While the scheme initially launches in six states and Union Territories, there might be plans to expand its coverage to other regions in the future.
How to Apply
Step 1: Gather Your GST Invoices:
Make sure to keep your GST invoices when you make purchases, dine, or go to the movies.
Step 2: Review and Update Details:
Use the Mera Bill Mera Adhikaar App to upload these invoices, ensuring all details are accurate.
Step 3: Become Eligible for Monthly Prizes:
Once uploaded, you're in the running to potentially win rewards every month.
The scheme is designed for B2C (Business to Consumer) transactions, meaning you must be an end consumer to participate. To be eligible for this scheme, consumers need to upload invoices that are issued by suppliers registered under the Goods and Services Tax (GST). 
This approach ensures broad coverage of transactions, encouraging wider consumer participation. The initiative will be rolled out in the states of Assam, Gujarat, and Haryana, as well as in the Union Territories of Puducherry, Daman & Diu, and Dadra & Nagar Haveli.